How VR empowers you to communicate your vision with perfect understanding.

Small firms using VR can stand out from their competitors as a leading firm embracing the future.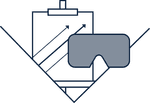 The true cost of getting started with VR and how quickly you'll see your ROI.

Avoid costly mistakes by vetting your
projects by viewing it first in VR.